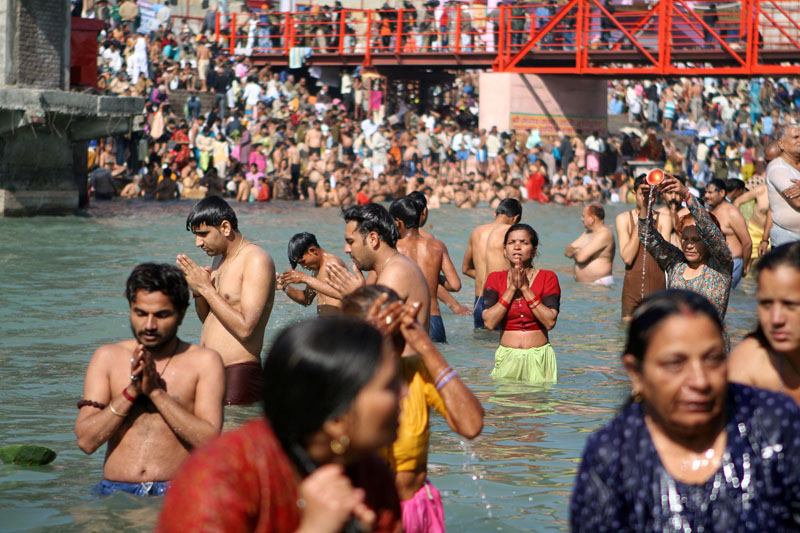 One of India's biggest Hindu festivals, Kumbh Mela, began on Tuesday morning here in Nashik. The last Kumbh Mela in Nashik saw 7,5 crore (75 million) pilgrims and sadhus travel to Nashik to take a holy dip in the sacred Godavari River. This Kumbh Mela is the most sacred of all the Hindu pilgrimages and is regarded as more auspicious than the annual Diwali and Holi festivals. They believe that dipping themselves in this river will wash a person clean from all their sins and recognise this Kumbh Mela to be a "golden" opportunity to "liberate" themselves from all the "miseries and sufferings of life".
Thousands of holy men and women (sadhus) are seen clad in saffron sheets with Vibhuti ashes dabbed on their skin as prescribed by ancient traditions. Some, called naga sanyasis, may not wear any clothes even in severe winter. The right to be naga, or naked, is considered a sign of separation from the material world. These Sadhus travel to the Kumbh Mela to make themselves available to much of the Hindu public. This allows members of the Hindu public to interact with the Sadhus and to take "darshan" (respectful visual exchange). Pilgrims are able to "seek instruction or advice in their spiritual lives." Darshan focuses on interaction with a Hindu religious deity and the worshiper believes he is able to visually "'drink divine power."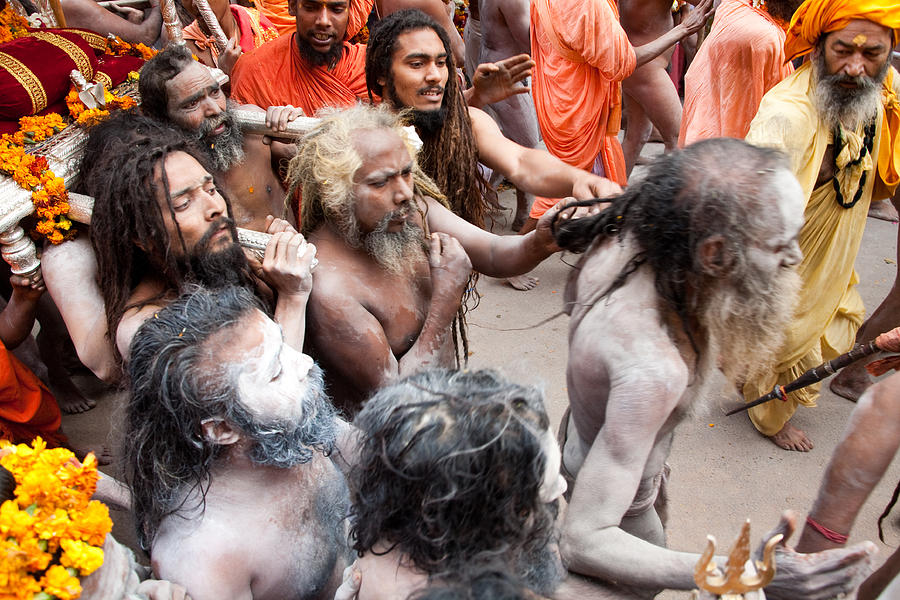 Kumbh Mela is celebrated every third year in four different locations (Nashik being one of the four locations). Nashik hosted their last Kumbh Mela twelve years ago. The pilgrimage is held for about 2 months, when Jupiter and the sun are in the zodiac sign Leo alignment (Simha Rashi). Hinduism teaches that drops of nectar fell from the kumbha(vessel) carried by gods after the sea was churned. One of these drops spilled into the Godavari river making it "divine". According to Hindu mythologies, the Kumbh Mela is the only time and place in the world where a person can "disburden" his sins and achieve 'Nirvana' from the vicious cycle of birth and re-birth. The Hindus believe that by taking a holy dip in the sacred water they will be able to wash away all the sins they have committed in the past and pave way for attainment of Moksha.
After visiting the Kumbh Mela in 1895, Mark Twain wrote, "It is wonderful [scary], the power of a faith like that, that can make multitudes upon multitudes of the old and weak and the young and frail enter without hesitation or complaint upon such incredible journeys and endure the resultant miseries without repining. It is done in love, or it is done in fear; I do not know which it is. No matter what the impulse is, the act born of it is beyond imagination.."
THE POWER OF FAITH
The "power of faith" can indeed be a wonderful as well as a scary experience. Without a doubt these pilgrims coming to the Kumbh Mela have faith. It takes an extra-ordinary faith to believe that your soul has to travel through 8 400 000 species before it reaches a human body. And only once your soul is in a human body, (Hindus believe) can you then start working on your own "karma"(good works) in order to achieve Moksha. As you watch these pilgrims perform these "pujas" and rituals you cannot help yourself but to agree with Mark Twain, that this faith born from this act (or this act born from this faith) is indeed beyond imagination. But, as millions of devotees gather, the question remains, is this type of faith enough? Will all this devotion, sacrifice, good works, self denial, suffering and effort "disburden" our sins and liberate us from the "miseries and sufferings of life"?  If you take poison (thinking its medicine) all the faith in the world (no matter how powerful) won't bring you back to life. So this question is of eternal significance. The destination of our eternal soul requires us to make the right choice and to have the right type of faith.
Here is what the Bible has to say about faith:
"the righteousness of God through faith in Jesus Christ for all who believe. For there is no distinction: for all have sinned and fall short of the glory of God, and are justified by his grace as a gift, through the redemption that is in Christ Jesus, whom God put forward as a propitiation by his blood, to be received by faith. This was to show God's righteousness, because in his divine forbearance he had passed over former sins. It was to show his righteousness at the present time, so that he might be just and the justifier of the one who has faith in Jesus. Then what becomes of our boasting? It is excluded. By what kind of law? By a law of works? No, but by the law of faith. For we hold that one is justified by faith apart from works of the law. " Rom 3:22-28
While many people will try to justify themselves before God on the basis of their religious activity or their good works, the Bible clearly teaches that the only way to come to God is by grace through faith in Jesus Christ alone. The object of our faith is the key. Too often, faith is misunderstood. The New Testament Jews misunderstood it, sending Jesus to his death and so do all other religions, like that of Mahatma Gandhi. Fifteen years before his death, Mahatma Gandhi wrote: "I must tell you in all humility that Hinduism, as I know it, entirely satisfies my soul, fills my whole being, and I find a solace in the Bhagavad and Upanishads." Just before his death, Gandhi wrote: "My days are numbered. I am not likely to live very long—perhaps a year or a little more. For the first time in fifty years I find myself in the slough of despond. All about me is darkness; I am praying for light."
Mahatma Gandhi's faith failed him at the end of his life. He had been searching for light in all the wrong places. He rejected the one and only true light. Jesus said in John 8:12, "I am the light of the world. Whoever follows me will not walk in darkness, but will have the light of life." Sadly the Mahatma believed that Christ was just another way. His object of faith was in his own works (karma). Even though he believed in and respected Jesus Christ, it was not enough. Even Satan and his demons believe in the true God (James 2:19), but they don't love and obey Him. Their faith is misplaced and not genuine.
So the question remains, what type of faith do you have? Is your faith in your works (karma)? Ephesians 2:8,9 says "For by grace you have been saved through faith. And this is not your own doing; it is the gift of God, not a result of works, so that no one may boast". Is your faith a cultural faith dependent on works like the faith of the devotees at the Kumbh Mela. Is your faith in a person, swami, guru, prophet or priest? Or is your faith rooted in family or heritage or a religious ritual like baptism, or even church membership? Is your faith in a profession you made or a covenant you signed? Or is it temporary faith, like the Jews, who turned away from Christ once they understood their need to bow their knee to the Sovereign Lord Jesus Christ? Is it a faith in faith, instead of a faith in the resurrected Christ of God, Jesus of Nazareth?
The "power of faith", as enchanting as it is, like that of the devotees at the Kumbh Mela does not save, and never will. Only the power of the gospel will save sinners from their sins. The question of salvation is answered in the object of your faith. So I ask you, in whom do you trust and why? Jesus himself said that he is the only source of salvation (John 14:6). Jesus said it clearly: "The one who rejects me rejects him who sent me" (Luke 10:16). People and religions that reject Christ reject God. Do other religions know the true God? Here is the test: Do they reject Jesus as the only Saviour for sinners, who was crucified and raised by God from the dead? If they do reject this, they do not know God in a saving way. According to Jesus any other 'way' is not a way at all but a deception; Jesus claims nothing less than exclusive authority and ability to save sinners. (Jn. 14.6; Mat. 7.13-14)
The good news of the gospel is that no one else but Christ died for sinners like us. And he rose physically from the dead to validate the saving power of his death and to open the gates of eternal life and joy (1 Corinthians 15:20). In Christ alone, God extends the perfect blood and righteousness of Jesus as the only suitable payment for our sin, "For he hath made him to be sin for us, who knew no sin; that we might be made the righteousness of God in him." 2 Corinthians 5:21. Our faith needs to be in the person of Jesus Christ and His work (sacrifice) alone for us and our salvation.
Please contact us or click on this link if you would like to know more…